Attention Mosher Crew!
We are pleased to announce the release of our brand new album "It Has Begun". Physical copies of the album are available now on Nocturnal Mass, a sub-label of Soundmass. Click  https://www.soundmass.com/product/it-has-begun/ to get your copy right now! This album is released as a professionally duplicated CD-R. We consider this to be one of strongest albums and we are thrilled to be working with Soundmass again. Grave Forsaken supporters will love it!
The album features 9 blistering new tracks featuring the lineup of Vaughan Gregory, Luke Gallagher, Joshua Gallagher, Matt Skipworth and Elias Salmela. This album continues with our mission to bring you the best Aussie Christian metal we possibly can! You can listen to new track "Battle On" on the front page of our website at www.graveforsaken.com 
The cover art was drawn by our own Elias Salmela and coloured by Scott Waters of Ultimatum and No Life Til' Metal. Scott also designed the CD package, and what a great job he did!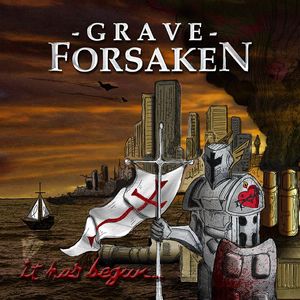 The full track listing is:
Run For Your Life 
We Stand United 
The Mission 
It Has Begun 
The One Who Knows 
Battle On 
Thoughts And Memories 
No Longer The Broken Man 
The Seafarer
Get it now!
God Bless and Rock On!
Grave Forsaken